Director's Corner
We've been working on some exciting things for summer 2023 and have enjoyed seeing campers new and old on our weekend adventures. Our next newsletter will feature camper and staff updates, so if you would like our community to share your successes and adventures, please email us and send a photo (if possible) and we will be sure to include you. Finally, for those of you who follow us on Facebook and read our blogs, FlapJack, our camp dog will begin this month to offer his insights through a periodic update feature called "Pawsitive Ideas"; Be sure to check out his wisdom later this month.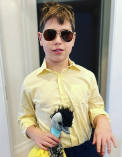 Dylan, who was in our Freshman Division last summer, was the winner of our costume contest during Halloween!His awesome costume, Doug from Liberty Mutual Insurance, was very well.
OPEN HOUSES
All members or our camp family are welcome to attend. Please email Reema for details.
Boys Program: March 4th @ 10am Girls Program: March 11th @ 2pm
ENROLLMENT UPDATES
We are over 80% filled in all of our programs. Interested in attending for summer 2023? Please reach out soon!
ACA TRISTATES CONFERENCE
Several members of our leadership team will be out of the office the week of March 13th, attending the American Camping Association Tri-states conference. This conference, the largest of its type in the world is an excellent place for our team to share, and get new program ideas to make sure that summer 2023 is an amazing experience for everyone.